Jewels of Amritsar
Here we will be profiling some of unknown jewels as well as internationally recognised jewels of Amritsar . If you want to see someone's profile who has contributed to Amritsar's fame or has been instrumental in betterment of society, please email us

admin@Amritsari.com

Thanks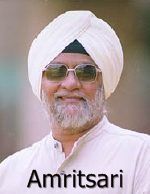 Bishan Singh Bedi

Bishan Singh Bedi was born September 25, 1946 in Amritsar, is an Indian former cricketer who specialised in slow left-arm orthodox bowling. He played Test cricket for India and formed part of the famous Indian spin quartet. He also captained the national side in 22 Test matches. Bedi is known for being outspoken and forthright in his views on cricketing matters.

Playing career
As captain of India, Bedi's personality inevitably led to some controversies. One famous controversy occurred during a Test match against the West Indies in 1976 when he objected to the intimidatory tactics of the West Indian fast bowlers and declared the Indian first innings closed early after two players were forced to retire hurt. Subsequently, five players were absent hurt in the second innings of the match.

In November 1978, he became the first captain to concede an international cricket match. In a One Day International against Pakistan at Sahiwal, India, with 8 wickets in hand, only required 23 runs from 14 balls. Bedi, however, recalled the batsmen from the crease and conceded the match in protest at the bowling of Sarfraz Nawaz who had bowled 4 bouncers in succession with not one being called wide by the umpires.

In Indian domestic cricket, Bedi first played for Northern Punjab and then later for Delhi. In the 1974-75 season of the Ranji Trophy, he took a record 64 wickets. Bedi also represented Northamptonshire in English county cricket for many years. He finished his career with 1560 wickets in first-class cricket — more than any other Indian.

He said that he has always washed his own clothes, calling it "the best exercise for your shoulders and fingers", when pointing out that spin bowling requires suppleness of limbs.

His highest score of 50 not out, his only half century at Test Level, was scored against New Zealand in Kanpur in 1976.
<![if !vml]> <![endif]>
Right-hand bat
Bowling style
Slow left-arm orthodox
Career statistics
Tests
ODIs
Matches
67
10
Runs scored
656
31
Batting average
8.98
6.2
100s/50s
0/1
0/0
Top score
50*
13
Balls bowled
21364
590
Wickets
266
7
Bowling average
28.71
48.57
5 wickets in innings
14
0
10 wickets in match
1
0
Best bowling
7/98
2/44
Catches
26
4

Coaching
In 1990, he had a brief stint as coach of the Indian national team. He was the first person to be appointed to this job in a full-time capacity. Following one cricket tour where India had played poorly, he famously threatened to dump the entire team in the Pacific on the return journey.
Opinions on modern day cricket
Bedi has stong opinions on many aspects of modern day cricket and has been described as "rarely afraid to speak his mind". In particular, he is a vehement critic of the bowling action of Muttiah Muralitharan ("if Murali doesn't chuck, then show me how to bowl") which he bluntly refers to as cheating and likens to a javelin throw and more recently, shot putting, saying the Muralitharan "will complete 1000 Test wickets but they would count as mere run-outs in my eyes". He takes a very dim view of chucking, which he calls "a bigger threat than bribing and betting" and claimed in 2004 that many bowlers on the subcontinent chuck, calling Muralitharan a "Sri Lankan bandit closing in on a dream artist called Shane Warne". He has stated, though, that he has nothing personal against Muralitharan, although Muralitharan has threatened to sue him. Recently he has echoed the same criticisms against his countryman, Harbajhan Singh. Regarding suspect actions in cricket, he said "When a bowler is chucking, he's referred to panels and the home cricket board. Why not do the same for a wide or no-ball, then?". He has accused one-day cricket, modern cricket bats and small grounds of causing a decline in classical spin bowling in India.
He has also attacked Sunil Gavaskar, calling him "a destructive influence". He said to Australian coach John Buchanan "Tell us, John, have you made this Australian team great, or have they made you?"
He once famously bowled Colin Cowdrey in a first-class match and remarked "I like your style of batting!". His son, Angad Bedi has also represented Delhi in the Ranji Trophy and also been trying his skills in TV and movies.
Source: Wikipedia